Published 2019/02/01
By Vince Longo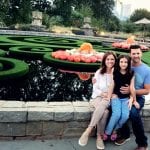 I am indeed a fortunate person to be coming into office at this extraordinary time in the history of the Greater Atlanta Home Builders Association (GAHBA). The momentum created by our Past President Jim Chapman working closely with Executive Officer Corey Deal, the staff and our Executive Committee creates a fertile field for the ground we expect to gain in 2019.
Our membership grew last year. The Parade of Homes was launched again after a few years of absence from our calendar.  We moved into our new offices, and we felt the impact of this more convenient location and modern facility immediately.  As I stated in my comments at the Installation, there are three areas I desire to really focus on in 2019 as we continue to move the association forward in a positive direction.
Builder Engagement
My top priority this year is to increase the involvement and participation of our more than 600 builder members. I have experienced firsthand the difference being actively engaged in the association can make. As builder members take advantage of opportunities to become better educated on the issues, learn new operating and construction technology and techniques and share experiences, they will increase the benefit of their membership. Continuing to build up our Government Affairs program will also continue to add tangible value to builder memberships. In turn, increased builder engagement will add direct value to associate memberships. The GAHBA is built to serve multiple interests and having more engaged builders will lead to increased engagement from associates, thus transforming our association into a more effective and valuable asset for its members.
Communication to Our Members
That brings me to another important goal for 2019, one that will encourage relationships between members and enlarge our platform of contact with the community. At its first meeting, our newly created Communications Committee initiated a Member Monday Spotlight. The spotlight increases attention on the company featured and is another method of increasing membership and retaining the members we have. Social media communication is a strategy we must embrace and use effectively if we are to thrive in a digital age. Ensuring our overall communication to our membership is reaching you, our customers, is imperative, and we will work in 2019 to learn as much as we can about the best means of communication and implement those to continue to both increase and demonstrate the value of membership.
Remodelers Council
My final focus area for 2019 is to rebuild the Remodelers Council. A large portion of our membership is involved in both new construction and renovations. We need to serve those members through a revitalized and strong Remodelers Council. Providing a vehicle for remodelers to gain educational opportunities and network with each other and vendors will fill a gap in our service offerings at this time. I would also like to increase our outreach program to make the GAHBA more relevant to remodelers through establishing an awards and events program that enables them to market to consumers.
With those three initiatives as the focus points for 2019, we want to make sure we continue to pull together as an organization of talented, creative and enthusiastic members to continue to build and grow all of the excellent programs and areas that exist within the GAHBA.
We need to put our best people – including you – to work on some of these challenges. Our charitable efforts include helping the homeless in partnership with HomeAid Atlanta, under the guidance of Mandy Crater. Our annual Parade of Homes is back, and it has room to grow. More homes, more visitors, more related events, more ways to involve the public. As we proceed to develop strategies, it is my intention to develop ways to measure their impact and their effectiveness in reaching our goals. We can then determine what works very well and what works only a little.
So, what do you say? Your participation, ideas and enthusiasm are all we need to take us to the top. I welcome your ideas, suggestions and constructive critiques. Only through participation and involvement in the association will you earn the full benefit of all the GAHBA has to offer.
Vince Longo began his home-building career as a teenager nearly 30 years ago, and his talent in carpentry led him to become a Master Carpenter and then a licensed general contractor. He founded Longo Homes Inc./Vincent Longo Custom Builders in 2000. The award-winning builder serves as the 2019 President of the Greater Atlanta Home Builders Association.