Are You Ready To Build Your Dream Home?
How often will I have access to the home during the building process?
dsflcbadmin
2021-08-18T23:06:51-04:00
We limit the site visits to during working hours Monday – Friday 8am to 5pm.  We ask to be called before hand to schedule the visit so we can prepare the site and remove all potential dangerous accident causing items.  We do not allow any site visits after business hours or on weekends without one of our representatives being made aware in advance and approved in writing.  We have to be sticklers on this because accidents happen and we want everyone safe, especially with children around.  Children get very excited on construction sites and typically head right for the dangerous objects and place themselves in hazardous situations.
They can also cause other situations like the one I had with a previous custom home I built where a child was at the site on a weekend with its parents and found a can of WD-40 oil. The child walked around with it with its hand on the nozzle, right across the hardwood floors and up the custom curved hardwood stair system.  Needless to say it was a lot of work cleaning up those soaked-in oil stains.  Not a good situation.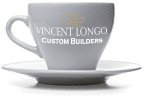 We'd love to get to know you over a cup of coffee!