Are You Ready To Build Your Dream Home?
Vincent Longo has been the absolute best builder my husband and I have ever used. This is our third custom home and from the first meeting we knew he was the builder to use because of his craftsmanship, attention to detail, complete business transparency, and a builder that always does the right thing by his customers. We once told him we feel so comfortable with his work ethic and integrity that we could give him our checkbook and let him take care of the building of our home. We are blessed to have found him and have him build our home.    Geoff and Sandy Peters
Vince was a very conscientious contractor. He went out of his way to make sure that everything was just as we wanted. Additionally, he had a lot of very good ideas that we incorporated into our final product.   eglassiter
Not only is Vince a nice person, he is a wonderful builder, has a great demeanor and is a perfectionist.
Vince has a great eye for the details. His homes all have unique architectural detail. No cookie cutter floor plans from Longo Homes!
Vince also keeps the cleanest building sites I have ever seen. I have had the pleasure of working with a number of great builders over the years and Vince is certainly at the top of the list. When he is on site, he will often put up a sign saying "Builder on Property, Please come visit." I sold one of his homes where the client had done just that and was so impressed with Vince, the home and the clean site, she and her husband purchased it.
I would recommend Vince for a totally new home, to finish a basement, add a wine cellar, media room or any home improvement. Wes Vawter, Founding Partner, REALTOR at Atlanta Fine Homes Sotheby's International Realty
I was referred to Vincent Longo Custom Builders for assistance with a complete tear out and remodeling of our kitchen in our home in Buckhead.

Having lived in our home for over 20 years, which was built in 1938 and is on the National Historic Register, I have worked with quite a few general contractors on various projects over the years. None have compared to Vince, the owner of Vincent Longo Custom Builders.

The most frustrating part of dealing with general contractors is their inability to keep a project on schedule and organized. Vince is unbelievable. I would receive regular/lengthy emails updating me on his list of "to do's" and when they would be accomplished.

We plan on expanding out home in the next year or so and I will absolutely use Vince and his company. The most professional general contractor I have ever worked with by far.   Andy Raper & Vivian Wright
I have known and been Vince Longo's banker for many years. I can say, without any reservations, that Vince is one of best builders that I have ever worked with. Vince pays attention to every detail and puts the quality into his projects that you would want in a custome builder. He is honest , respectful and does his best to please his clients. Vince takes care of all his obligations and I am delighted to recommend him to you.    Dan R. Baker,  Senior Vice President, Georgia Commerce Bank
Vince Longo is by far the best general contractor that I have ever used to build a home. Not only does he choose the best materials, his attention to detail and to getting it right is far beyond expectations. I strongly recommend Vince for any new construction or large renovation type projects in your home.    Steve Miclette
I wanted to thank you for your kind letter regarding things you learned in our program and how they have helped you in your construction business.

As you may be aware, of our 8,000 plus students only about 30 percent actually build a home and of those only 30 percent continue on to become a professional builder like yourself. But very few of that number know the industry as you do because you know how to actually do and have done the physical work which most professional builders have never done.

Even though I prefer our students not doing the physical work I must admit after seeing your own home it does put you in a class by yourself. I saw this in many areas but especially in your attention to details which I believe is critical in order to be a "superstar" custom builder.

Vince, I'm proud of what you have accomplished and with much pride I like to think I made a contribution to your style and success.

I know you will have a long and successful career in this industry. God Bless you, your family, and your work."    Tom Harrison, President, The National Institute of Home Builders 
Vincent Longo is a top notch builder — I've had the pleasure of working alongside Vince and was very impressed with the quality of his work and his effectiveness in obtaining permits and land use changes without delay.   Mike Fitzgerald, Founder, Fitzgerald Land and Commercial Realty, 2015 State House Candidate
It was a strange situation; one that he easily diagnosed. Once the basement is completed, my clients will have a $2.2M home. At this price point, the whole job is a crucial addition to the home's value and marketability in the future.    Craig Dodd,  Atlanta Fine Homes Sotheby's International Realty
Vince Longo listened to our dreams and truly built our families dream home. His abilities from both a builder and design standpoint are unparalleled. Upon embarking on the stressful process of building our own home I was a sceptic. After doing our due diligence we chose Vince and secretly hoped he would agree to build for us! His genuine skill for building prized custom homes, professionalism, knowledge of every aspect of the process, honesty, aggressiveness, project management, and vision truly separates him from all other builders. He is simply in a league of his own. If you are fortunate enough to have Vincent build your home….get ready to work with a true master of his trade and watch your dream home, or project, regardless of size, come to life.    Natalie Strayley
Enjoyed working with Vince, very organized, clean safe job site. Nice to work with a builder who values quality first.     David Pearson
Used Longo Custom Builders consulting service for design and structural on a major renovation project . They made some creative suggestions that made this project come out way better. There was great follow up along the way and the suggestions in the end on the finishing touches really mad a big difference.    Jens Oxlund
I have worked with a lot of builders in my time and few compare to Vincent Longo. His attention to detail is a very needed asset in this industry. He is also a high integrity guy. His no means no and his yes means yes. I would highly recommend Vincent Longo Custom Builders to anybody looking for a good quality builder.    Bryan Long, RLS, Meridian Geomatics, LLC
Vince Longo, is a superior craftsman and very talented individual, he brings his passion to the home building and remodeling industry. I have worked with Vince on many projects in the past and it is always a pleasure.

Vince has a superior vision and touch that puts him way above his competition.
Vince won several Awards in the past and is a well respect builder in our industry.
it is truly a treat if you have the opportunity to work with him.

We look forward to working with Longo Homes in the future.    Frank Pologruto, President, Decks & More
It took our family over 2 years to find the house we wanted and we are well beyond satisfied with the work Vince and his team did at our new home. Our initial search included several homes Vince had recently built and after purchasing a home requiring significant remodeling to create the look and feel we wanted the decision was easy to bring him on board to run the process. immaculate worksite, considerate of the owner and their needs, timely, detail oriented, diligent and excellent craftsmanship are just a few of the adjectives I can use to describe how well the process went and how happy we are with the end result. Vince comes with our highest recommendation and you will not be disappointed should you choose to work with him.    Justin Cimino
Vince Longo transformed our master bath into a spa experience. Courteous, conscientious, skillful, meticulous, hardworking, flexible…Vince exceeded our expectations!   Vivian Wright
I have worked with Vince Longo for at least four years. In our professional relationship I have personally experienced his creativity, "take action attitude" and his willingness to work with many moving parts simultaneously. I have the upmost respect for him, his integrity, and his work ethic. Laurie Attaway, Partner, Attaway Linville CPA
Vince Longo is a master craftsman who can take any idea on paper and turn it into a work of beauty. The job he did on our remodel was outstanding. His trim work and ceilings are truly amazing. Vince's integrity in his work and his relationships are role model. I highly recommend Vincent Longo Custom Builders. Vince's attention to detail, follow-up and follow-through are unmatched in his field. He is a pleasure to work with and always has a smile on his face. I would be happy to discuss Vince's work with anyone any time.   Rich Shank
i-homes has completed several Jobs for Vince Longo. I am proud to say that we have several more upcoming projects together.. Vince is the type of builder that i-homes is excited about developing a long term working relationship with. Vince is not only a great Builder, he is a great person as well. If Vince decides to take on your project, consider yourself lucky, and know that your are in good hands.
i-Homes Atlanta pre-wires Longo Custom homes for low voltage, data, audio/video distribution and Home Automation, enhancing his clients life style, giving them the ability to control their new home from anywhere in the world. I-homes turns Vince's homes to the smartest homes on the block. Vince is extremely involved, knowledgeable and passionate about every phase of the building process, and wants to provide the bests choices and products for his customers, ensuring that they get the most
fulfillment their new home has to offer.   Bryan Baker
Vincent Longo is one of the most professional and detailed builders that we work with. His jobs are always completed with highest attention to detail and all of his homeowners are extremely satisfied.  Michael Bell, Bell Custom Cabinetry and Inspirations KB Studio
I have worked with Vince several times over the years. He is always very professional, knowledgeable, and as courteous to his subs as he is to his clients.   Jim Dickman, President, Dickman Grading and Hauling Inc.
My drywall company has worked for Longo Custom Homes for many years. Mr. Longo holds everyone to very high standards and we are rewarded with a consistent flow of new custom homes. His customers rave about how easy he is to work with and how well even minute details are handled. Give Vincent a call and you'll be glad you did.  Gary Phillips, Custom Drywall, Inc.
Vince and his team were extremely professional from the very beginning. They worked within our budget, met our schedules, and along with their design team did an outstanding job on our Salon. We get rave reviews from all who walk into our establishment on how awesome our salon looks. Even after our project was completed, his service and professionalism has continued in regards to the few minor issues that have been handled immediately. We would use Vince again when we begin our expansion.   Marnie Miraya, Owner Plum Salon
In the past several years, I have gotten to know Vince well. He is a caring individual who puts his clients needs first. Vince has a great eye for detail, and he is a very creative thinker. I would trust he and his team with my construction project any day. Vintage Construction Group
Vincent Longo is a consummate professional who I entrusted with all my pre-build needs, from bidding suggestions, templates and tools to consultation on what contracts to use and how to structure them advantageously. In selecting Vince, I myself created a base comparison list of builders like him with references. On every dimension, Vince exceeded others I met with and interviewed (over a dozen)
against like criteria. I would gladly make this list and competitive bench marking tool available to anyone for their use and knowing they can customize it further for their use. In Vince you have someone who is a meticulous and highly organized professional builder but someone who knows how to balance the needs of his customers to create 'win-win' results. Dan Spector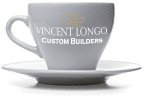 We'd love to get to know you over a cup of coffee!