Are You Ready To Build Your Dream Home?
Transitional
Believe it or not this home lived it's first 50 years as a standard Atlanta Brick Ranch Style home.  We wanted to breath new life into this home to honor the special family that selected us to buy it from them as they knew we could bring it back and not tear it down.  We did just that with the help of the brilliant architecture of Rodolfo Castro of Castro Design Studio in Atlanta and design skills of Amber Longo of Longo Design.   The collaboration between the builder and architect was seamless and resulted in what you see here.  The home's transformation boasts a new open concept filled with warm woods and steel detailing all while keeping the finishes very limited and crisp.  The kitchen became the nucleus with cutting edge detailing of the steel window from countertop to ceiling that seemingly holds up the cast stone hood in midair.  The White Oak cabinetry features a 2-tone finish in natural and charcoal to take the one of a kind to a new level.  This home was a joy to design and build and hope you enjoy it also.  Do not forget – we can transform your home as well, not all old homes need to be torn down.
Features
Romabio – limewash paint
Custom cabinetry by Innovative Woodcrafters
Large 2 story Custom Steel Windows
Reclaimed French Oak Flooring
Dacor Appliances
Cast Stone Hood
Custom Steel Doors In flat black
Rubio Monocoat Finishes on Cabinets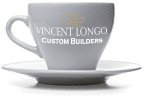 We'd love to get to know you over a cup of coffee!