Are You Ready To Build Your Dream Home?
New England Transitional
This is the personal home of the owners of VLCB.  This home design started on a napkin as Vince and Amber dreamed of the spaces that would come together to become the perfect home for our family and spaces that have evolved from building many homes over the years.  Vince's love of New England Architecture from growing up in the northeast and Amber's love of clean lines and transitional detailing melded together to create a "Best in American Living" national award-winning home.  The home sits on over 3 acres of land in the Smyrna, 30080 zip code, an area where large parcels are hard to come by.  The home had to take advantage of the gift of space by hiding the garage behind the home and boasting a porte-cochere drive thru which has always been a dream of Vince's to have.  The homes cedar shake cladding, Indiana Limestone and Lueders mix of stone and traditional new England round columns makes up the exterior – the interior boast so many custom features – the pictures tell the tale.  It would also be worth noting that the huge accordion style steel door won the National "WOW" award for specific detailing in the National "Best in American Living Awards".
Features
Custom cabinetry by Innovative Woodcrafters
Large Accordion Style Custom Steel Doors
Multi Width White Oak Flooring
LaCornue Range with Thermador Appliances
Cast Stone Hood
Custom Steel Doors In flat black
Fine Inset Cabinetry by Innovative Woodcrafters
Walnut Cabinetry
Wine Room
Study with Plaster Ceilings by Decracraft of NYC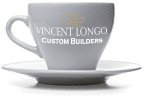 We'd love to get to know you over a cup of coffee!