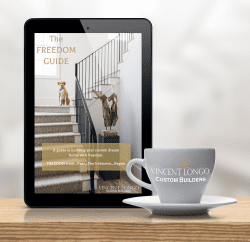 At Vincent Longo Custom Builders we know that you want to be a satisfied homeowner. In order to do that, you need trust. The problem is fear of the process which makes you feel uncertain. We believe building your dream home shouldn't be your full-time job – that's our job. We understand the pitfalls of the construction process which is why we guide you the entire way.
Here's how we do it:
1. We listen to you
2. We develop a plan
3. We execute the build
Why Longo Custom Builders
Handcrafting homes to make dreams come true motivates and drives our approach to every custom home we have the privilege of building. We have designed a process that begins with you, your vision and your life. Each new home presents challenges and an opportunity for us to demonstrate our commitment to exceeding your expectations.
When you choose Longo Custom Builders, you have our word—and our reputation rests on our word—that we will listen to you at our first meeting and every time we talk after that.
This is what we do:
Listen to you.
Answer your questions honestly.
Guide your decisions when you need our expertise.
Generate a construction schedule.
Help you develop a project budget.
Give you on-going updates.
Keep your budget, schedule and vision our top priorities.
Manage subcontractors and vendors to meet schedule and budget.
Inspect materials delivered to the site and resolve any defects.
Require the highest performance from our team and everyone involved.
Conduct ourselves professionally and demand that standard from subs.
Require adherence to all safety guidelines and standards.
Stay ahead of potential construction issues.
Coordinate the warranty process.
Accompany you every step of the way.
Deliver on our commitment to make your dream come true.
This is what you do:
Tell us what you want.
Relax and enjoy the process without fear, worry, and frustration.
Enjoy your home and create a lifetime of memories.